EK-CryoFuel Dye Pack - Kit di Coloranti Concentrati
EK-CryoFuel Dye Pack - Kit di Coloranti Concentrati
EK-CryoFuel Dye Pack è kit di Coloranti Concentrati pensati per essere aggiunti a EK-Cryofuel Clear oppure EK-Cryofuel Solid Cloud White per creare colori personalizzati. Non utilizzare questi coloranti in combinazione con altri liquidi oppure con semplice Acqua in quanto non contengono additivi o biocidi e potrebbero essere non compatibili con altri prodotti.
Il pacchetto contiene 3 flaconi di colorante (Rosso, Blu e Giallo) utilizzabili per ottenere molte combinazioni di colore. Ogni flacone può erogare circa 340 gocce di colorante.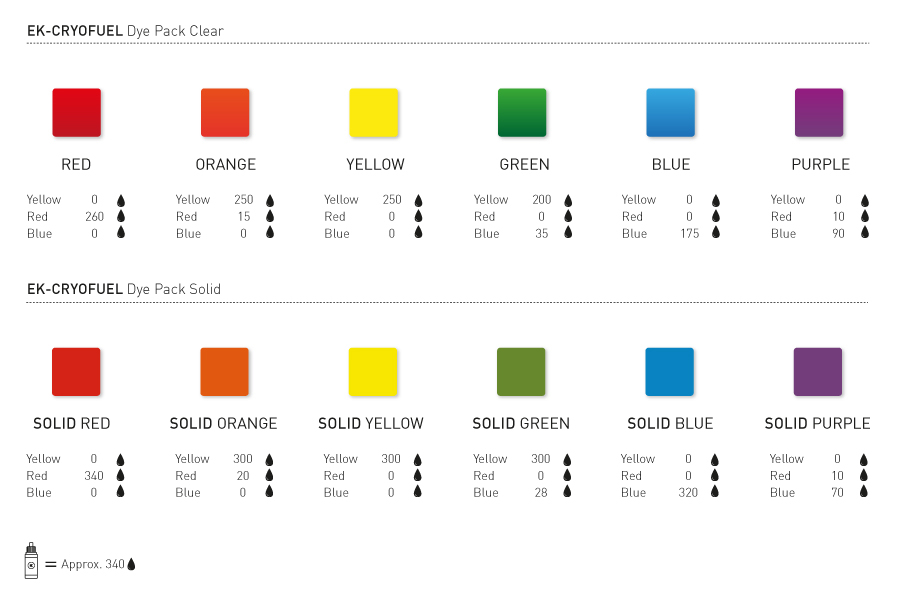 Le quantità proposte sono indicative per un litro di liquido.
PLEASE NOTE:
EK strongly recommends the use of EK-Cryofuel Solid Cloud White or EK-Cryofuel Clear as your base coolant!
It is mandatory to use specifically engineered coolants that contain corrosion, scale, and biological inhibitors in order to prevent damage to your nickel plated water block!
16 altri prodotti della stessa categoria: